City Physical Therapy offers physical therapy services and treatment for a wide range of conditions.
Services

"Thank you again for fixing my shoulder! It's been a real pleasure coming to your practice and getting top notch treatment."
—Tom B., New York, NY
read more
Orthopedic Physical Therapy

Sports Physical Therapy
Physical Therapy for Martial Artists
Post-Rehabilitation Fitness Training
Return to Sport Training/Conditioning Programs
Sports Performance
Fitness and Performance Program Design
Graston Technique
Common Conditions We Treat
Knee • Shoulder • Spine • Hip • Foot/Ankle • Elbow • Wrist/Hand
We treat all types of orthopedic and sports injuries/conditions. We also treat patients injured at work or in motor vehicle accidents. Here is a list of some of the most common conditions we see:
Knee
Patella Femoral Syndrome
Ligament Sprains, Tears, Repairs and Reconstructions (ACL, MCL, PCL, LCL)
Meniscus Tears and Repairs
Post Fracture and Post Surgical Care of the Knee
Arthritis and Total Knee Replacements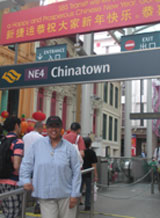 Shoulder
Rotator Cuff Strains, Tears, Tendinitis, Repairs
Impingement Syndrome
Shoulder Instability/Dislocations
Frozen Shoulder (Adhesive Capsulitis)
Shoulder Separation (AC Joint Sprains)
Labral Tears and Repairs
Post Fracture and Post Surgical Care of the Shoulder

Spine
Low Back Pain
Neck Pain
Herniated and Bulging Discs
Degenerative Disc Disease
Spinal Stenosis
Spondylolysis
Spondylolisthesis
Scoliosis
Radicular Syndrome
Facet Syndrome
Post Fracture and Post Surgical Care of the Spine


"Dan's knowledge, skill, and--above all--unflaggingly cheerful attitude made my physical therapy experience after knee surgery a pleasure."
—Christy, New York, NY
read more
Hip
Sprains and Strains
ITB Syndrome
Bursitis
Arthritis
Labral Tears of the Hip
Total Hip Replacement
Post Fracture and Post Surgical Care of the Hip

Foot/Ankle
Ankle Sprains
Ligament Tears and Reconstructions
Shin Splints and Tendinitis
Ankle Instability
Plantar Fasciitis
Post Fracture and Post Surgical Care of the Ankle

Elbow
Tennis Elbow (lateral epicondylitis)
Golfer's Elbow (medial epicondylitis)
Bursitis
Post Fracture and Post Surgical Care of the Elbow

Wrist/Hand
Sprains/Strains of the Wrist
Carpal Tunnel Syndrome
de Quervain's Tensynovitis
UCL tears of the Thumb
Post Fracture and Post Surgical Care of the Wrist/Hand